The Civil and Industrial Buildings Specialization was established in 1948. Following this, the Department of Civil and Industrial Buildings was created in the same year, while, in 1954 the Department of Reinforced Concrete was founded. The two departments joined together in 1961 as the Department of Reinforced Concrete and Buildings and, lately, as the Department of Civil, Industrial and Agricultural Buildings. The Building Services Specialization and was set up in 1977. The Department of Building Services was founded in the same year and joined the Department of Civil, Industrial and Agricultural Buildings in 2012, within the actual Department of Civil Engineering and Building Services Engineering.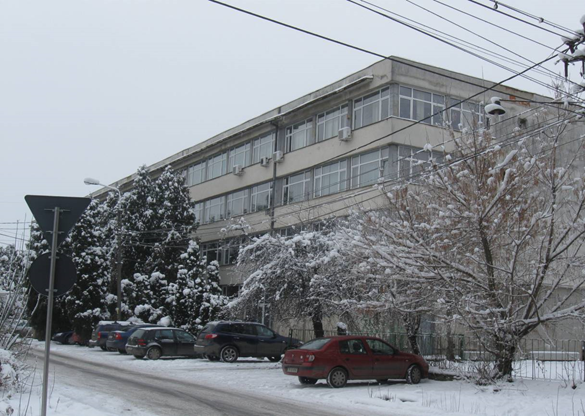 The teaching activity of the Civil Engineering branch addresses several discipline groups: Concrete Structures and Bridges; Civil, Industrial and Agricultural Constructions; Construction Materials; Construction Technology.
The Building Services branch provides teaching in the field of: Electrical and Lighting Systems, Heating Systems, Ventilation and Air Conditioning Systems, Sanitary Systems, Gas Supply.
The teaching staff is composed by four professors, six associate professors, nine lecturers and five assistant professors.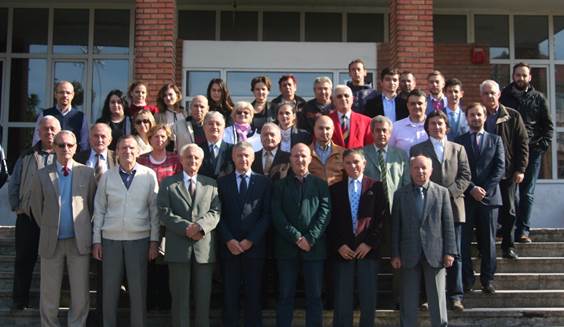 Areas of Research
Civil Engineering: High performance concretes; New materials; Durability of reinforced concrete structures; Masonry structures;Structural health monitoring; Energy efficient buildings;
Innovative solutions for new and existing structures using systems with steel-concrete and FRP composites.
Building Services: Energetically efficiency and energy saving; Ambient comfort; Utilization of renewable energy sources; System optimization for production, transport and distribution of thermal energy; Investigation of the energy efficiency of conventional air conditioning systems in office buildings. The collaboration in elaborating standards and norms is to be mentioned (e.g. norms I13, I13.1, I6, 047-0.49).
Within the department, there are two Research centres, supported by laboratories licensed as 1st Grade in the following areas: Concrete, Construction Materials, Building Physics, Building Services.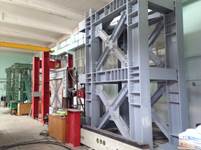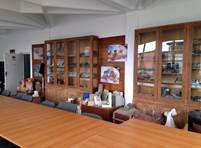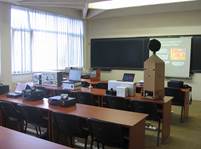 The Research Centre for Retrofitting of Constructions supports the following main theoretical and experimental activities:
Study of durability, behaviour in time and evaluation of materials subjected to severe environmental actions;
Assessment by in-situ measurements and monitoring the technical condition and vulnerability of buildings exposed to the effects of natural hazard;
Optimization studies and methodologies based on performance criteria in order to establish the power system solution for building rehabilitation;
Behaviour of structural elements made of concrete, steel, wood and composite materials, at flexure, shear, axial load and punching.
Experimental tests are performed as: monotonic in plane load testing; cyclic in plane and out of plane load testing;
Structural health monitoring;
Structural materials quality control tests;
Fibre Reinforced Composites (FRC) materials.
The Research Centre for Building Services – CCIC, authorized in 2001 by CNCSIS (certificate no. 57/CC–C 2001) is structured in 3 compartments: Sanitary and Gas installations, Thermal systems, Electrical installations and Automation.
The researching infrastructure consists in the main laboratory equipment and installations: conditioned testing room, air cooled; radiant heating floor; complex stand for thermo-hydraulic modelling and processes analyses in installations; a GEA air handling unit; VRV air conditioning systems; LWZ 161 controlled centralized ventilation system; data acquisition and automatically transmission system; computer for data acquisition and automatically processing; ground-coupled heat pump WPC 5 Cool, integrated with a passive cooling module; air-water heat pump WWK 300, coupled with solar panels; measuring and monitoring system of energy in heat pump systems; ceiling radiant heating panels ZHENDER; performance testing stand for building services products and equipment; energetically and cavitations testing stand for centrifugal pumps and for the behaviour in the ensemble pump-network; digital modular system for data acquisition, transmission and automatically process TESTO 454; portable infrared camera Thermal CAM T360.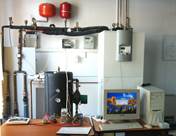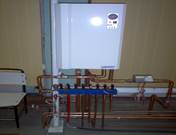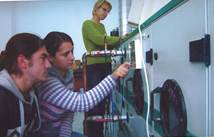 Relevant Projects
COPERNICUS PROJECT Recycling of Fly Ash for Producing Building and Construction Materials Based on a New Mineral Binder System
INCO COPERNICUS PROJECT High Performance Materials Derived from Industrial Waste Gypsum
NSF (National Science Foundation) type COBASE (Collaboration in Basic Science and Engineering), USA: Seismic Retrofit of Masonry Structures
PROHITECH (Earthquake PROtection of HIstorical buildings by reversible mixed TECHnologies) program type FP6
COST Actions: Improvement of Buildings' Structural Quality by New Technologies, Sustainability of Constructions - Integrated Approach to Life-time Structural Engineering
Performance Assessment of Energy Efficient Houses through Monitoring - PASSHOUSE
Nearly Zero Energy Building and Passive House – Sustainable Solutions for Residential Buildings
Valorisation des additions minérales pour la production de bétons écologiques et durables, WBI – FRS-FNRS, Belgique
Leonardo da Vinci Project "Energy Training for European Buildings" – ET4EB, Nr. UK/05/ B/F/PP-16232;
ILETE Project "Initiative of Low Energy Training in Europe", Nr. EIE/07/202/ S12.466282;
Collaboration Program "Annual energy consumption for heating, cooling and warm water assurance in buildings", UTE Budapest.